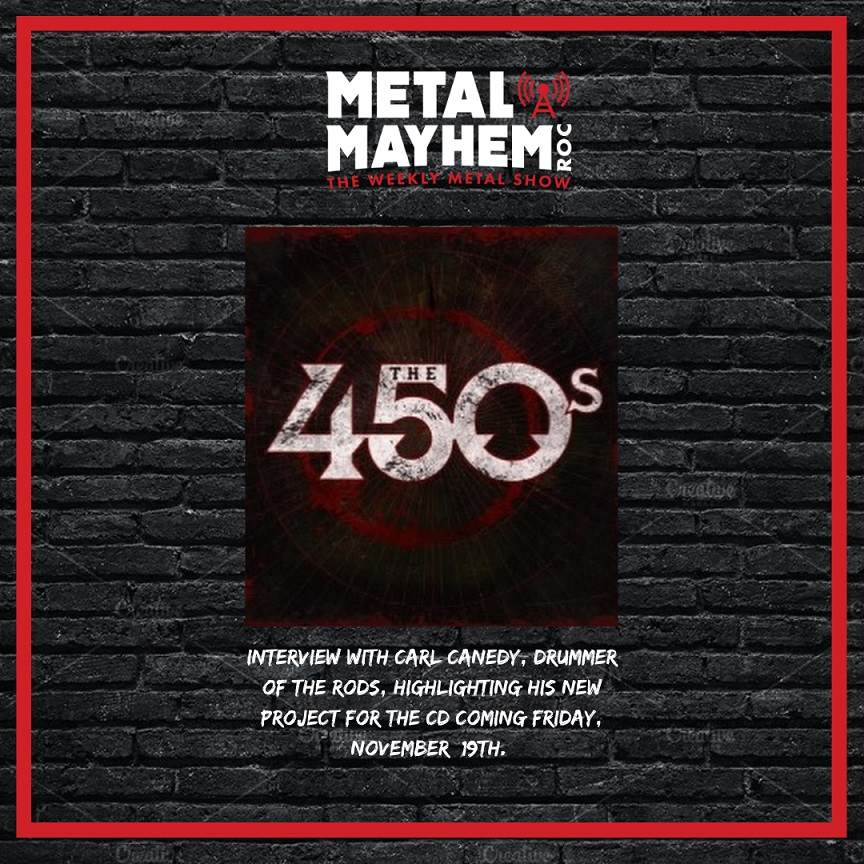 Good evening, everybody. Its Thursday and time for another edition of Metal Mayhem ROC!
Tonight-- show host Jon "The Vernomatic' Verno has a fun informative interview to share.
Carl Canedy, veteran of over 40 years in the Hard rock and metal community as both a drummer with 80s power metal band The Rods as well as a producer during the early years of Anthrax, Overkill and Manowar, joins the Vernomatic tonight to discuss his new project THE 450s
US based rock group THE 450s releases upcoming self-titled album release "The 450s" on November 19th, 2021 via LOUDER THAN LOUD RECORDS, available for pre-order via this link: https://smarturl.it/The450s
Vernomatic and Carl, take a deep dive into the origin of these tracks, how they came about and give a listen to portions of some of these cuts.
The guys talk about Carl's connection to Ronnie James Dio as well his current relationship with Anthrax and Overkill. We here at Metal Mayhem ROC like to support our metal heroes in all of their outside projects.
THE 450s is a new American Rock band featuring The Rods' Carl Canedy on drums. The line-up is completed by James Jacobs (St. James) on guitar, Robert Jacobs (St. James) on bass, Ryan Sambrook on keyboards and Rhett, a veteran of major labels, on vocals.
When the quartet got together in Miami chemistry was effortless, the resultant songs so strong that they caught the ear of legendary producer Jack Douglas (Aerosmith, Cheap Trick, Patti Smith), who went the extra mile in mixing the album, highlighting The 450's inherent musical tension and dynamics. Chris Collier (Korn, Prong) also worked on the mixing/production, helping to hone the "modern" part of The 450's "modern vintage" vibe.
The 450s bring an old-school band ethic to bear: No resting on laurels, no copping styles from their forefathers; no pre-fab or pre-conceived anything. "We got together in a room and turned everything up real loud," they explain. "We jammed and recorded what came out. Ultimately, it's "about creating this group of songs out of nowhere for no reason other than it's what we all love to do."
We invite you to rate and review this and all past episodes at www.podchaser.com Simply enter Metal Mayhem ROC in the search box, scroll down, press the MMROC logo and rate the episode and leave a review
As always, we encourage you to listen, like and share this and all past episode to your metal and NON metal friends. Thank you for your support, you can follow us at https://www.facebook.com/groups/409879766475870
Please stay safe and always remember to KEEP IT HEAVY!!!