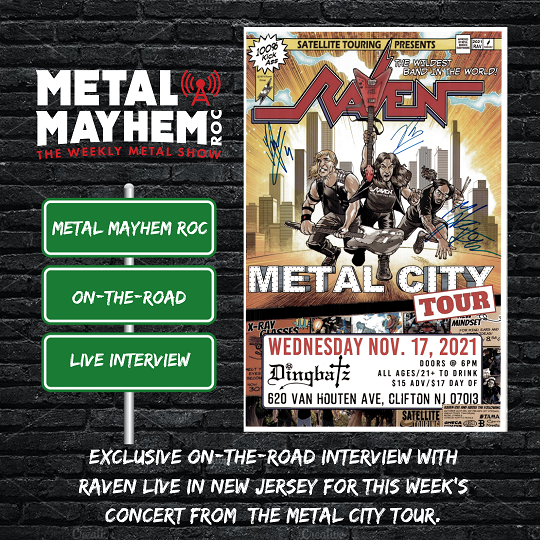 Happy Thanksgiving metal heads! Its Thursday and time for a holiday edition of Metal Mayhem ROC.
This week host Jon "The Vernomatic" Verno takes the show on the road to Clifton New Jersey, home of legendary metal venue DINGBATZ, for a remote interview with New Wave of British Heavy Metal veterans RAVEN.  
Vernomatic is joined by staff contributors "Metal Walt'' and Order of The Dead vocalist ''Bill the Rager" the three hang out with brother's John and Mark Gallagher, founders of the band.  The five joke, bust balls and deliver an entertaining conversation centered on the current 2021 U S METAL CITY TOUR.
Vernomatic and the brothers discuss what its like touring in a new "post covid" landscape. How things have changed and, in some instances, stayed exactly the same.
"Metal Walt", as a native New Jersian, gets the history of RAVEN in the Garden state, memories of the OLD BRIDGE METAL MILTIA as well as their relationship with the tri state area overall.
"Bill The Rager ", John and Mark take a walk down Heavy Metal memory lane, rekindle memories of RAVEN playing to a sweaty, sold-out Penny Arcade metal club in Rochester NY, living in the central NY area for a few years and general flashbacks to the western NY days.
Sprinkled in with music from the new METAL CITY release as well as classics from the back catalog, this is a fun visit with true metal veterans.
We invite you to rate and review this and all past episodes at www.podchaser.com Simply enter Metal Mayhem ROC in the search box, scroll down, press the MMROC logo and rate the episode and leave a review
As always, we encourage you to listen, like and share this and all past episode to your metal and NON metal friends. Thank you for your support, you can follow us at https://www.facebook.com/groups/409879766475870
 Happy  Holidays everybody.Please stay safe and always remember to KEEP IT HEAVY!!!