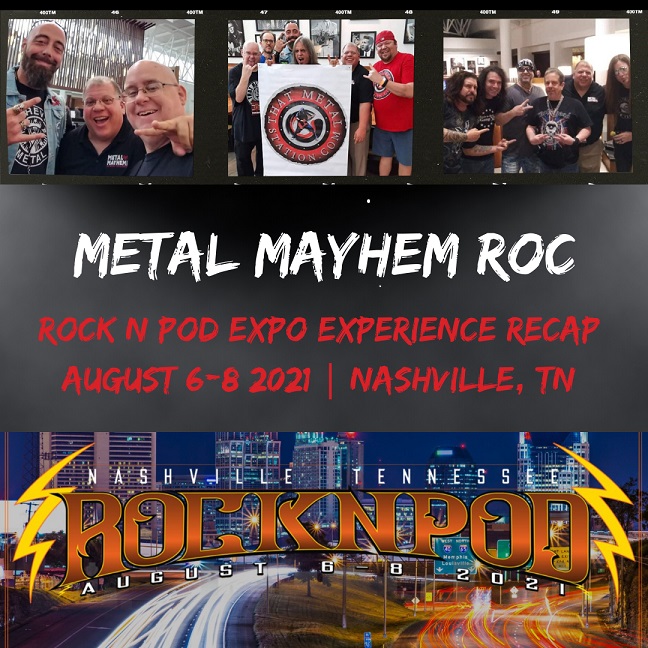 Hello everybody! Welcome to this week's edition of Metal Mayhem ROC.
Tonight, co-host Jon "The Vernomatic'' Verno shares his experience of the Rock N Pod Expo from last weekend in Nashville, Tennessee.
Vernomatic welcomes back Mike Tyler from www.thatmetalstation.com to share his commentary and input on this 3-day event. The guys talk about meeting some fellow podcasters, internet radio personalities as well as interviewing some of the top members of the rock n metal community.
Vernomatic shares interviews with comedians Don Jamieson from VH-1 's That Metal Show, Craig Gass from The Howard Stern Show, as well as Van Halen expert Author Greg Renoff .
Up and coming artist Kevin B Klein details his inspirational story of following his dream of becoming a professional recording artist and his connection to the legendary Rochester NY institution The House of Guitars.
Vernomatic hangs out with the band SteelCity. Gets to know them on a personable level all while the band shares their Mt. Rushmore Of Metal of musicians.
Vernomatic and Metal Mike from TMS catch up with Pat Gesualdo from the Metal Hall of Fame. Pat announces the 2021 inductee class for the sept 12 Live stream ceremony.
And finally, The guy's interview Chris Dunnett, guitarist for the Iron Maiden Tribute band Powerslave.
It's a fun look into what its like being a tribute band artist.
All this and more on this week's edition of Metal Mayhem ROC. As always thank you for the support, listen, like and share and always KEEP IT HEAVY!