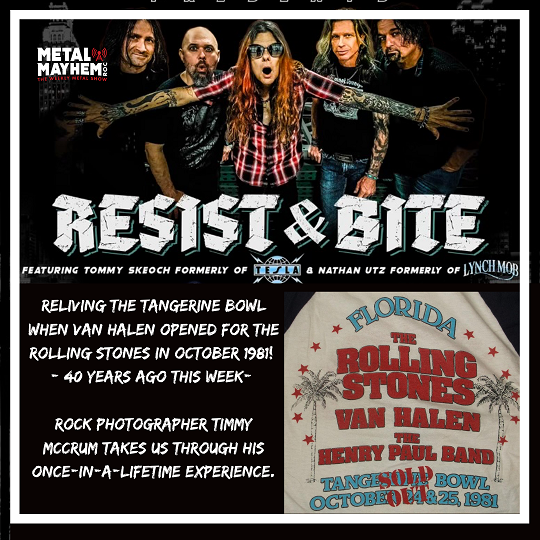 Good evening everybody. Its Thursday and time for another edition of Metal Mayhem ROC !
Tonight-- show host Jon "The Vernomatic' Verno has two fun informative interviews to share.
Resist & Bite was formed in early 2019 by Tommy Skeoch (Formerly of Tesla) David Parks, Steve stokes, Brian Powell and Nathan Utz (Formerly of Lynch Mob).
The band spend most of 2019 writing and recording. They made themselves public to the world in February 2020, just in time for the pandemic.!! The band self-produced and released their first song "The Myth I'm Living" on Metal works, 105.9 The Rock in Nashville TN. The track gained momentum and positive attention worldwide.
In June 2021, saw the band release another single and video for the track "Fate". The song was recorded and mixed by Michael Rosen at Sound Stage Studios in Nashville and is one of 13 new original tracks on the just released self-titled debut album Resist & Bite.
Vernomatic takes a deep dive into that album band members Tommy Skeoch and Steve Stokes.
The guys cover the formation of the band, their unique chemistry of writing and the "Magic "behind the tracks on this album. Its a fun chat with a great band that has its roots in classic 80s style rock but yet still has the sound and feel of a current 2021 hard rock band.
Vernomatic, then has an exclusive interview with Rock photographer Timmy McCrum as he shares his once-in-a-life-time experience of photographing both Van Halen and the Rolling Stones in one concert.
Van Halen capped off their 1981 Fair Warning by opening up for the Rolling Stones on two sold out stadium shows October 24th and 25th at the Tangerine Bowl in Orlando FL 40 years ago this week.
Tim shares how he planted his photography equipment in an empty stadium days before the event to get past the strict security system. Tim relives the excitement and euphoria as a un stoppable VAN HALEN went toe to toe with the legendary rolling stones. It's a great story with an even better ending.
We invite you to rate and review this and all past episodes at www.podchaser.com Simply enter Metal Mayhem ROC in the search box, scroll down, press the MMROC logo and rate the episode and leave a review
As always, we encourage you to listen, like and share this and all past episode to your metal and NON metal friends. Thank you for your support, you can follow us at https://www.facebook.com/groups/409879766475870
Please stay safe and always remember to KEEP IT HEAVY!!!