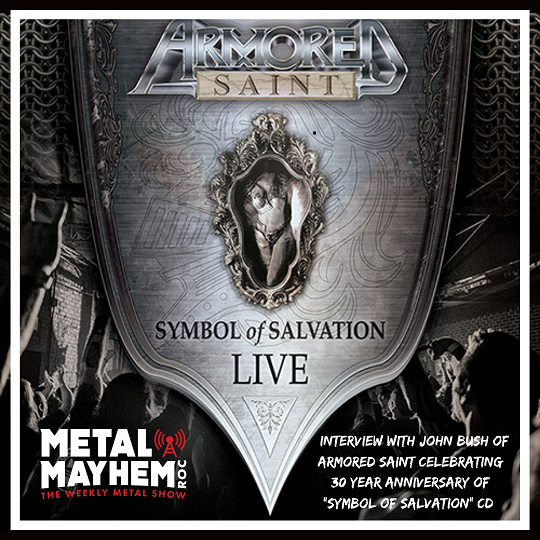 Good evening, Metal Heads! Its Thursday and time for a new edition of Metal Mayhem ROC.
Show host Jon "The Vernomatic" Verno welcomes Armored Saint Vocalist John Bush to the show to discuss the bands brand new release -Symbol of Salvation Live.
There are many ways to celebrate the anniversary of an important release in a band's career, and for Symbol of Salvation's thirtieth birthday - an album vocalist John Bush refers to as Armored Saint's "cornerstone record" - comes Symbol of Salvation Live. A combination live album and video of the band playing the album in its entirety at New York's famed Gramercy Theatre during their 2018 tour, it captures the power, diversity and peerless songwriting contained within it.
Vernomatic and John cover how this project came about, what kind of production vision the band had and what led them to choose the NYC market as the site to shoot the video.
Bush also shares his plans of doing an Anthrax era solo tour and comments on the time he played with Metallica during the bands 30th anniversary shows in 2011.
It's a fun catch up chat with john and ends with a sample of a choice cut from the live CD.
We invite you to rate and review this and all past episodes at www.podchaser.com Simply enter Metal Mayhem ROC in the search box, scroll down , press the MMROC logo and rate the episode and leave a review.
As always you can contact us at Vernomatic @metalforever.com and join the discussion at the Metal Mayhem ROC Facebook Group page www.facebook.com/groups/metalmayhemroc.com
Thank you for your support. Please listen, like and share with your metal friends and even your NON metal friends.  ­-KEEP IT HEAVY!!