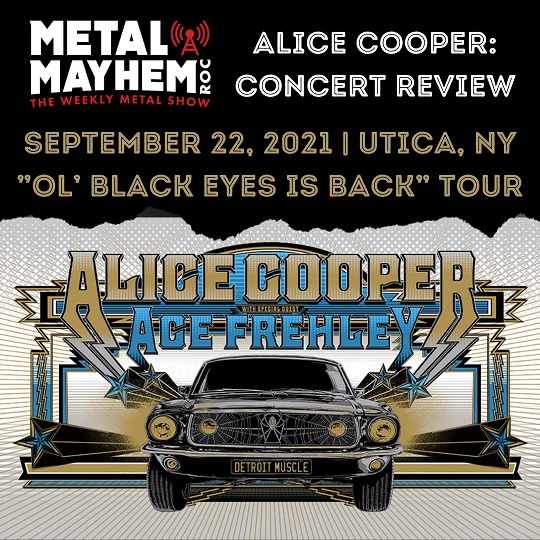 Good evening metal heads welcome to another edition of Metal Mayhem ROC. Tonight, show host Jon "The Vernomatic" Verno and Metal Mayhem ROC show contributor Ian O'Rourke share their review of the Alice Cooper/ Ace Frehley concert.
Billed as the "OL' BLACK EYES IS BACK 'TOUR - Vernomatic and Ian traveled to Utica, NY and took in the concert in the historic Stanley Theatre, located in the downtown entertainment district.
Without divulging exact set list song by song, the guys express their thoughts on both of the band's sets, give there take on the musicianship of BOTH bands and rate the performance.
Alice Cooper ,who is touring with former KISS guitarist Ace Frehley as his opening act, pioneered a grandly theatrical brand of hard rock that was designed to shock audiences. Drawing equally from horror movies, vaudeville and garage rock, the group created a stage show that featured electric chairs, guillotines, fake blood and boa constrictors.
Ace frehley is one of the first true guitar Gods and has remained a fan favorite from the original four founding members of KISS. With his fun-loving quirky smile and alien cackle, it's a true treat to be able to see "SPACE ACE" Frehley in 2021.
We thank you for listening, please rate and review this podcast. Share with your metal and NON metal friends too, and always remember to KEEP IT HEAVY!!