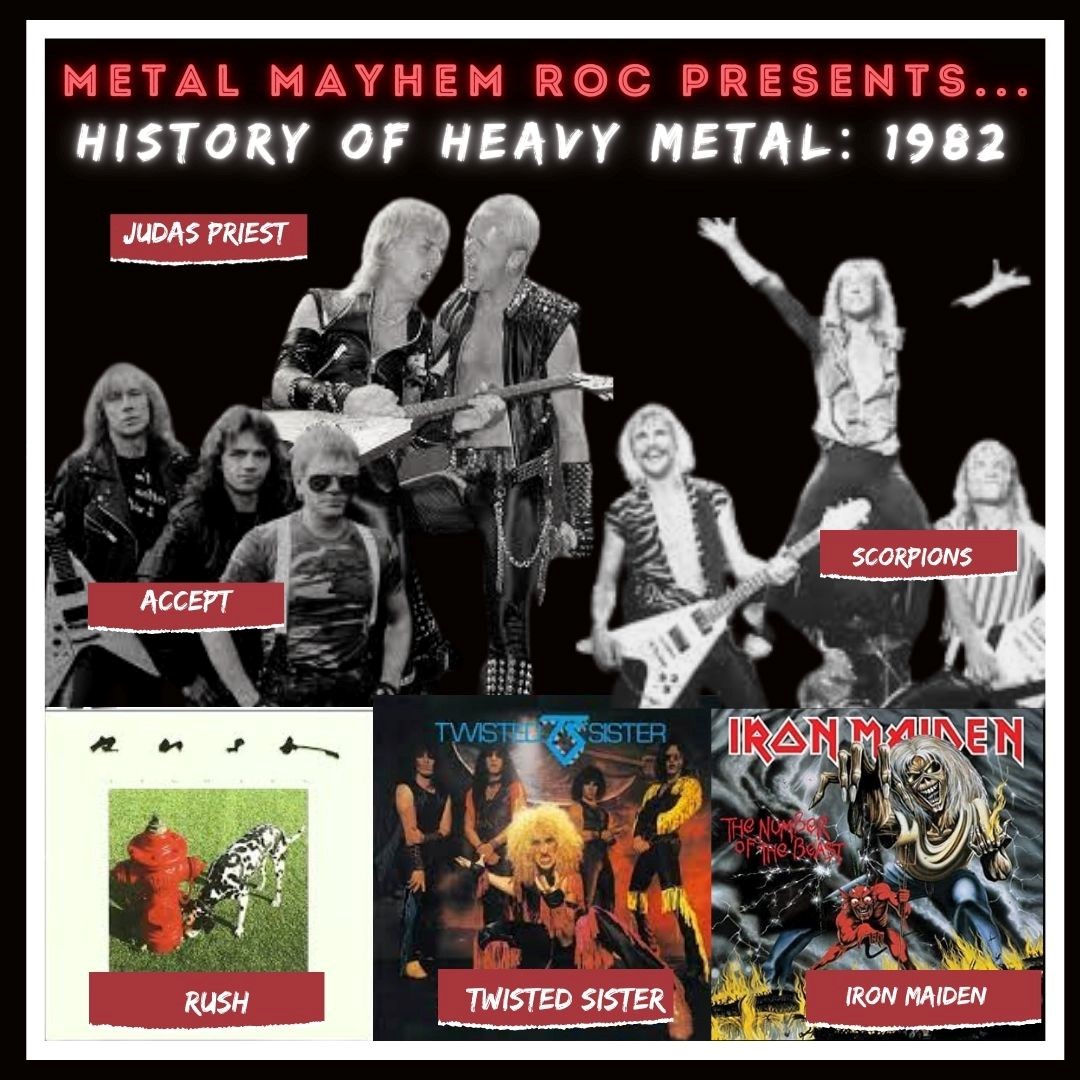 Happy New Year metal heads! Welcome to another edition of Metal Mayhem ROC  as this week we are continuing our ongoing series "The History of Metal"- The year -1982
Host Jon "The Vernomatic" Verno welcomes back metal historian" Metal Walt" and Ian O'Rourke from the Central NY traditional heavy metal band MOTORLORD to the show to help navigate this series.
"Metal Walt" covers Live releases by both BLACK SABBATH Live Evil and Ozzy – Speak of The Devil, as well as the studio efforts by JUDAS PRIEST -Screaming for Vengeance and RUSH- Signals
Ian O'Rourke handles IRON MAIDEDN- Number of The Beast, SCORPIONS -Black out and ACCEPT – Restless and Wild.
Vernomatic covers all the NWOBHM honorable mentions, plus new releases and milestone albums from SAXON -Denim and Leather and MOTORHEAD-Iron Fist and VAN HALEN -Diver Down.
We mix in commentary and personal reflection on all of some of these releases directly  from Carl Canedy of THE RODS and Nigel Glockler of SAXON. It's a great escape and reminds all of us how and why we love our metal heritage.
We invite you to share your comments at www.podchaser.com. Just enter Metal Mayhem ROC in the search box, scroll down and press the MMROC logo and Rate and Review.
As Always you can contact us at Vernomatic @metalforever.com and join the discussion at the Metal Mayhem ROC Facebook Group page https://www.facebook.com/groups/409879766475870
Thank you for your support. Please listen, like and share with even your nonmetal friends and as always remember to -KEEP IT HEAVY!