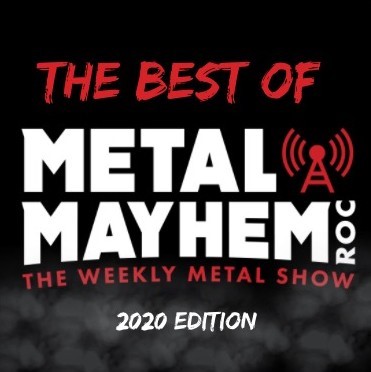 Jon "The Vernomatic" Verno and Metal Forever Mark put together The Best of 2020 highlight episode. This is a fun look back at some of the exclusive  interviews that was featured on the show in 2020. 
Vernomatic revisits the episodes chronicling Rochester NY's Major contribution to the explosion of Heavy Metal on the east coast in the early to mid 80's.
* Metal Mayhem Radio Show- How a young Vernomatic and "The Cheech" followed their passion and started a weekly Metal radio show ,which resulted in a exclusive interview with METALLICA in 1986 .
* "Lakeshore Record Exchange-The Metal Years " the riveting story of how  Ron and Jackie Stein parlayed a import Metal Record store into becoming  one of the top  promoters of metal concerts on the east coast in the mid 80s. Listen to Ron recall how  METALLICA would come to LAKESHORE while  they were in Rochester NY during the recording of KILL EM ALL. 
* The Making Of KILL EM ALL- Here the story of 21 year old Andrew Wroblewski , a aspiring sound engineer, befriend a very young METALLICA and helped record the HOF bands debut album.
* Metal Forever Mark shares excerpts from his exclusive interviews with Don Dokken, Michael Sweet of Stryper, Brian Wheat of Tesla. 
* Vernomatic and Metal Forever Mark team up with  sound bites from there interviews with Metal Comedian Jim Florentine ,Van Halen Expert Author Greg Renoff and Rock n Metal Photographer Mark "WEISS Guy" Weiss. 
* 
This is Just the tip of the iceberg. Hear some of Heavy Metals longest tenured veterans share exclusive road stories of EVH, Randy Rhoads , Nikki Sixx, Metallica . Also exclusive  Mt. Rushmore of Metal lists , Metal confessions and Much ,Much , More. As always , THANK YOU for the support and KEEP IT HEAVY!!
Vernomatic and Metal Forever Mark.