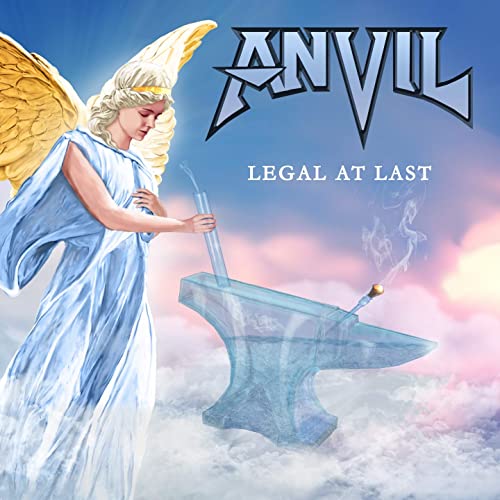 Metal Mayhem ROC show episode January 7, 2021
 Jon "THE VERNOMATIC" Verno  brings in 2021 with a catch up interview with  Steve "LIPS" Kudrow from ANVIL to discuss the 2020 release of  LEGAL AT LAST CD. Lips shares the details of how the 2020 European tour was abruptly cancelled and how they have kept busy during the COVID-19 Layoff.
Anvil are a Canadian heavy metal band from Toronto, Ontario, formed in 1978. The band now consists of Steve "Lips" Kudlow (vocals, guitar), Robb Reiner (drums), and Chris Robertson (bass). As of 2020, the band has released eighteen studio albums, and had been cited as having influenced many notable heavy metal groups, including Megadeth,  Slayer, Anthrax and Metallica
The band, in particular Kudlow and Reiner, was the subject of the 2008 documentary film, Anvil! The Story of Anvil, directed by the screenwriter and former Anvil roadie Sacha Gervasi. Upon its release, the film garnered critical acclaim from many major publications, and has since brought the band renewed recognition, including opening slots with AC/DC and Saxon. Appearances at major heavy metal festivals, including Download, Loud Park and Hellfest, and independent music festivals like Bumbershoot and SXSW, also followed the release of the film
Vernomatic gets the inside scoop on the positive effects of the Documentary on the band, and how THIS period is there "GLORY DAYS". The guys also reminisce about the early days of anvil and how the band transitioned from 70's hard rock act to an 80s Metal band which leads to Lips sharing a secret about the "MOTOR CITY MADMAN'' Ted Nugent.
Vernomatic welcomes Metal Mayhem ROC Correspondent "SOUTHERN CAL" to the show. Cal provides commentary on the band, An in-depth review of the new LEGAL AT LAST CD as well a sample of a few choice cuts from the disc.
Feature Interview Show links:
https://open.spotify.com/track/12GQZzDHMdjfzKYvLEwATn?si=4JQ7mzGtSq6-bqDrtrbIJw
https://open.spotify.com/track/6jLH9DqRaPCPUnToaqzmjL?si=mQxfhO3DQVWL6EoTtx0qjQ
https://open.spotify.com/album/4ae6neJzQHVg26wX86Ok4l?si=EBWyKPKBRBGa0SUsvd7ipw
https://www.facebook.com/anvilmetal