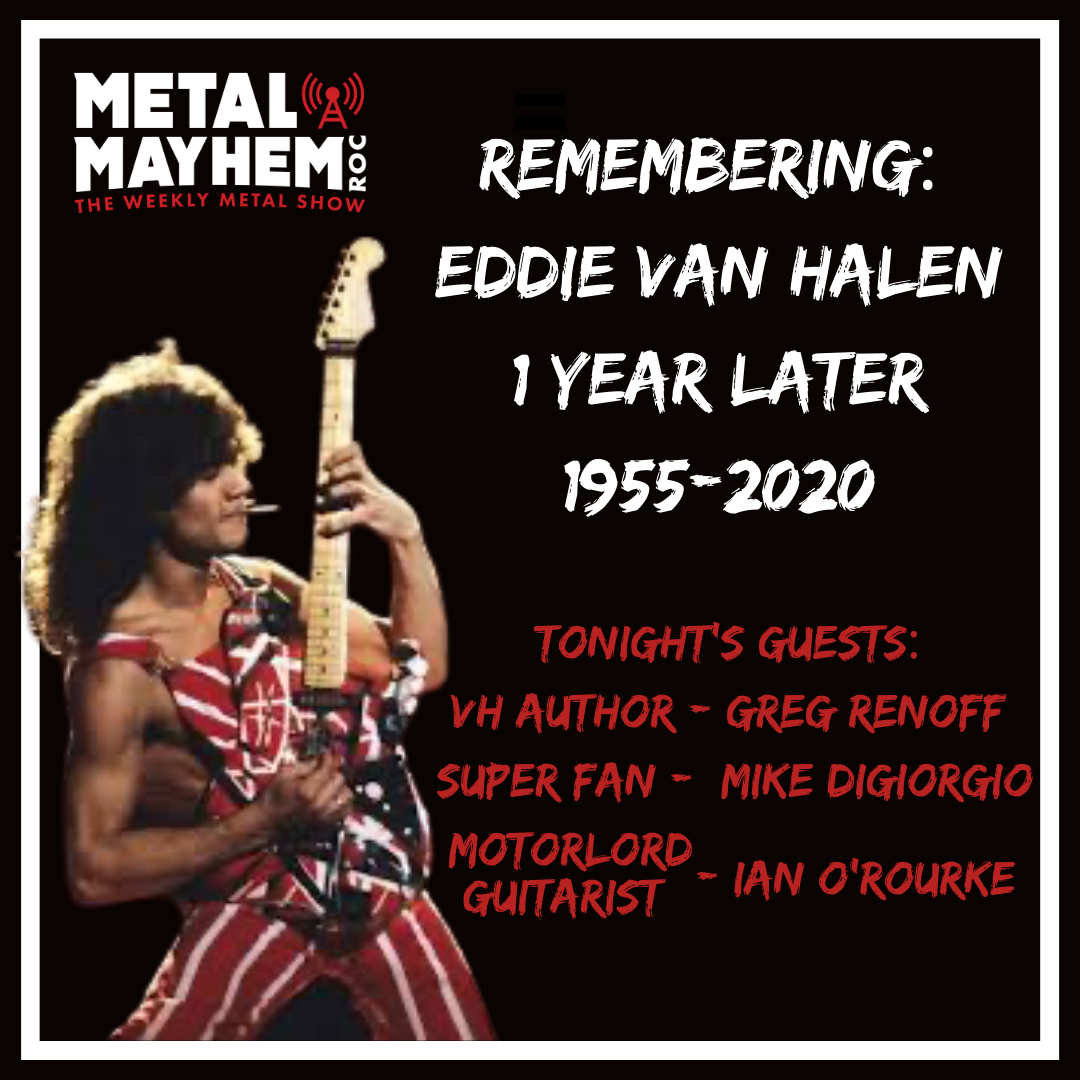 Good evening, Metal Heads. Its Thursday and Its time for a brand-new edition of Metal Mayhem ROC.
When rock legend Eddie Van Halen died of cancer on October 6, 2020, the entire world seemed to stop and grieve. Since his band Van Halen burst onto the scene with their self-titled debut album in 1978, Eddie had been hailed as an icon not only to fans of rock music and heavy metal, but to performers across all genres and around the world. Van Halen's debut sounded unlike anything that listeners had heard before and remains a quintessential rock album of the era.
Tonight, show host Jon "The Vernomatic" Verno welcomes back Greg Renoff author of "Van Halen Rising: How a Southern California Backyard Party Band Saved Heavy Metal" and "Ted Templeman: A Platinum Producer's Life in Music to the show to take "deep dive" into the history of Eddie Van Halen and celebrate Eddies life, one year after his death.
Vernomatic and Gregg are also joined by Mike DiGiorgio, Writer/Broadcast Producer for 13WHAM-TV in Rochester NY and Ian O 'Rourke, guitarist and Vocalist of the Hard rock band MOTORLORD.
The Four discuss how the last year since Eddies death has affected them. They cover the latest David Lee Roth developments regarding his "RETIREMENT". Greg gives us some insight on how cool it was to be a guest at the famous Sunset Sound Recording Studios, the location where Van Halen recorded the first 5 albums. Finally, Greg's shares the plan for his next project. This a fun, celebration of Eddie and classic Van Halen.  
We invite you to share your comments, Good or bad, with us at Vernomatic @metalforever.com and join the discussion at the Metal Mayhem ROC Facebook Group page https://www.facebook.com/groups/409879766475870
Thank you for your support. Please listen, like and share with even your nonmetal friends and as always remember to -KEEP IT HEAVY!!